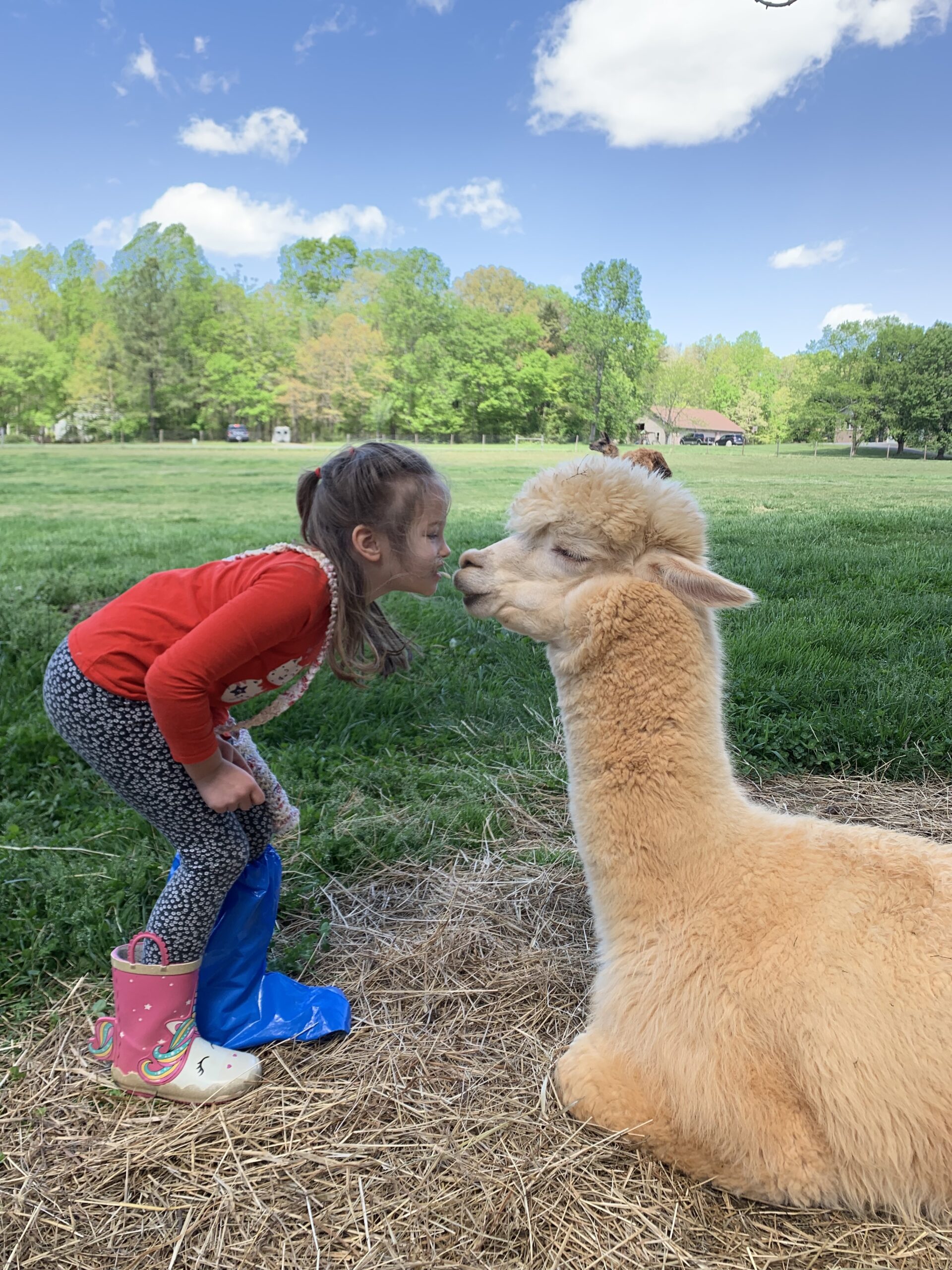 Here is some helpful information when planning your alpaca adventure with us. We specialize in private tours where you can get up close and personal with our friendly, curious and adorable alpacas. Our herd is somewhat desensitized to wheelchairs, walkers and strollers.  We always say, "slow and gentle movements and a handful of baby carrots will make you an immediate alpaca whisperer on our farm! We encourage you to bring your own baby carrots for facilitate interaction with our herd.
   Our tour begins in the nursery pasture where our guardian llama, Nigel is on duty. There you will also meet our public relations alpaca "Bliss". Although Bliss is blind, he enjoys lots of love and affection. You will then enter the single lady's area where you are likely to see them flirting at the fence line with Pistol, our male who desperately seeks conversations with these girls.  You are likely to hear them "cluck" at one another; a verbal sign of affection.
You will then enter the boy's pasture where you will visit with Pistol, his gang and our Dream Team which includes Lord Pinkerton, Orlando, Legend, Geronimo Jax and Ricochet.  We will let you decide which ones we consider pet therapy alpacas, they are easy to spot.  These boys get to visit Alzheimer's patients and can be touched from head to toe without a care in the world. Many folks find this group of alpacas to be therapeutic to them as well!
Particulars
    To make your tour more enjoyable, we recommend footwear that you don't mind getting muddy or poopy. The walking distance of our tour is approximately 725 steps. Please let us know if you would like an abbreviated tour and we will be glad to accommodate the walking distance.  There are plenty of sitting places around the farm if you wish to sit and rest before completing the tour. To avoid the heat, we recommend you schedule your summer tours between 9 and 10am.  Once the barn fans turn on, it is hard to get the alpacas to leave the comforts of their home.
   And lastly, our farm tours are free, but expect to leave with lots of information because along the way we provide educational information and storytelling. We accept donations to keep our pet therapy program alive. There is also a farm store on site where you can pick out souvenirs and alpaca products made from our generous herd. Online purchases are available at https://ritadeealpacas.com/farm-store/. Since we are a true working farm, we are unable to provide tours without notice. So please plan ahead so we can make sure we have a tour guide available when you arrive.  Please call, text, e-mail or message us to schedule ahead.