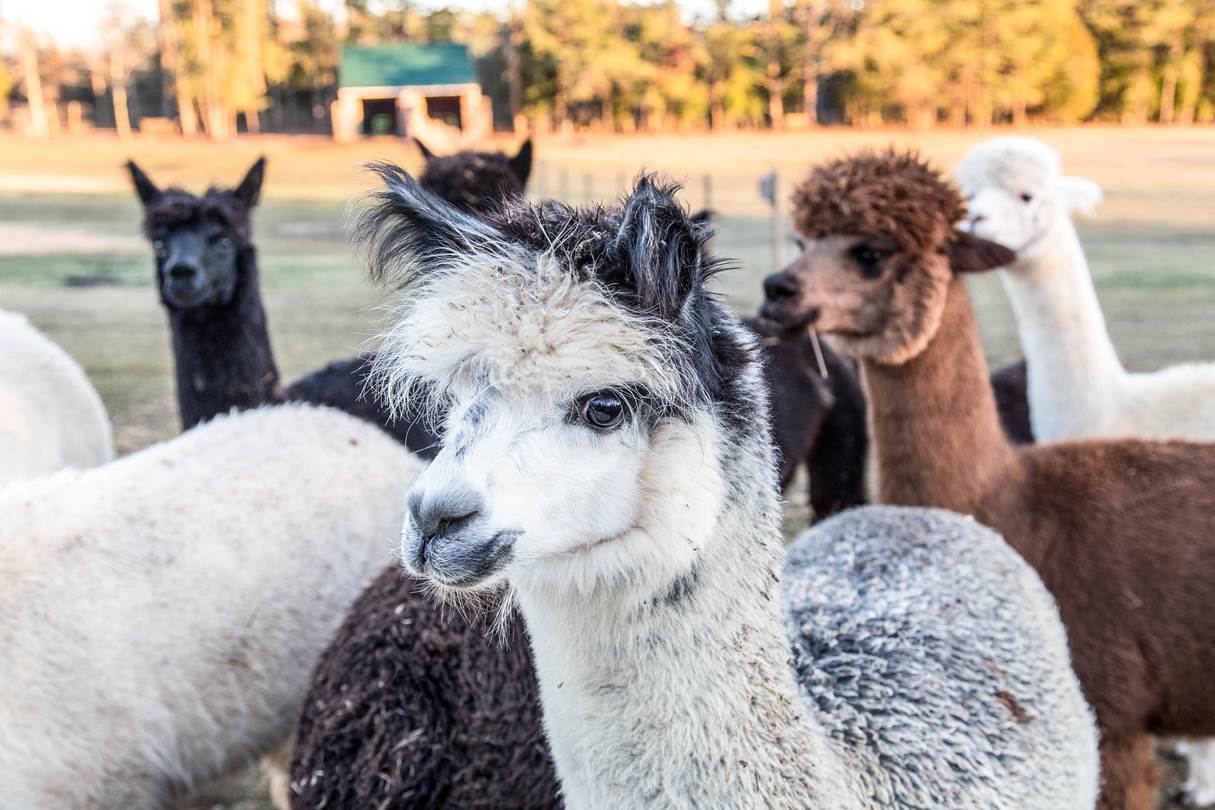 Have you ever been to the zoo in the middle of the summer and ask yourself, "Where are all the animals?" And the answer is…they are off somewhere trying to stay cool! That is what you will say if you visit our alpaca farm in the middle of a hot summer day. Heat stress can be a problem for alpacas, so we do what we can to keep them cool. This includes lots of shade, fans, and water. We add electrolytes to at least one of the barn water buckets to replace what alpacas lose through the sweating process. We also keep hay in the barn to prevent them from having to venture out in the heat unnecessarily.
Alpacas also have their own way of regulating heat through their thermal vent or ventral window which is located on the belly side of the animal (from arm pit to arm pit). Here, air flowing low to the ground assists in releasing body heat. If we hose their bellies down to accelerate this process, they are likely to go out to pasture and lay with their bellies to the sun and do what appears to be "sunbathing". They are letting the breeze continue to cool them down.
There is a formula for calculating the potential heat stress for any given day. Temperature plus percent humidity equals the heat stress Index (HIS). If this value is greater than 150 is our warning sign. Greater than 180 is downright dangerous.
Although we have a weather station here on the farm, I am not one to run and calculate for heat stress, so the rule is: "Keep the farm extremely zin during the summer months". That means, as little handling as possible. We prefer, no transporting, no haltering, no breeding (of course) and no pasture changes. Two new options we are considering this year are, no fall breeding so females do not have to carry during the heat of the summer and a second shearing for a couple of the extremely dense boys that show signs of heat stress every year.
According to the Climate Survey for North Carolina, 2020 was the 2nd wettest year on record for the state, the 3rd hottest year, AND the first time in 126 years that both precipitation AND temperature were in the top five. You can read more at https://news.ncsu.edu/2021/01/2020-weather-year/.
So, all this to say, we hope you choose to visit our farm at a time that is most convenient for you, but if it is during the heat of a summer day, you may have to visit our alpacas in their "natural habitat", the barn! Here is another hint: Alpacas look so much more adorable in full fleece, that is, before shearing day. For us, shearing is usually the fourth weekend in April.